November 19, 2019 - /PressAdvantage/ - Escamilla Law Group (ELG) is pleased to inform the residents of Mesa, Arizona that the firm's local office offers Mesa auto accident attorney services. With over 100,000 automobile accidents happening every year in Arizona, over 1,000 automobile accident related deaths, and 53,000 people left to deal with injuries and losses sustained during an automobile accident, it is important to have an accident attorney on hand to make sure that one receives the compensation they deserve. It is also vital to ensure that they are not falsely charged and forced to pay compensation where they should not have to.

"When victims are injured in auto accidents, it is crucial that they are able to work with a skilled and knowledgeable personal injury attorney in Mesa," says the firm. "Those harmed deserve full and fair compensation for their damages, and they deserve justice for their injuries." The attorneys at Escamilla Law Group are dedicated to making sure that those liable are held responsible and their victims are protected. The firm's attorneys have over 30 years' worth of combined experience in helping accident victims find their feet again, and they seek to ensure that the suffering of Mesa car accident victims is kept to a minimum.

The attorneys at Escamilla Law Group review the details of each victim's claim, consult with expert witness, and take all the steps necessary to help their clients get the best possible outcome no matter the circumstances. This is crucial since being involved in a car accident can change one's life completely. Accidents can result in injury, which can in turn lead to one being unable to work and support themselves. They can also lead to the death of loved ones and providers and can result in the utter destruction of one's vehicle which, for most people, is a crippling loss. These problems are exacerbated by the fact that insurance companies will often offer low settlements that are not enough to cover the cost of medical treatment.

"Not only do these settlement offers provide less than what is needed to cover the costs for treatment and other damages, but they jeopardize victims' abilities to file a legal claim against those at fault in the future," says Escamilla Law Group. "For this reason, it is imperative for victims to contact a car accident attorney in Mesa as soon as possible to ensure their best interests are protected." Find out more here: Car Accident Law Firm Mesa.

An auto accident may occur for almost any of a number of reasons. Distracted or inebriated drivers, defective vehicle systems, unfamiliar or dangerous driving conditions, and reckless driving are just a few of the reasons why an auto accident may occur. No matter what the reason, Escamilla Law Group's attorneys are ready and willing to help auto accident victims get what they need and deserve.
Furthermore, claims for auto accidents are usually a lot more complicated than most people anticipate. As Escamilla Law Group says, "You may end up with less compensation than you deserve if you try to handle an accident claim on your own. It is of utmost importance that you hire a law firm in Mesa that has decades of experience in handling auto accident lawsuits."

A number of people have worked with Escamilla, and the vast majority had nothing but positive comments to share. "Although I have not worked with the ELG team on a personal legal issue, I have worked with all of their attorneys and staff in a professional setting," says a 5-star Google review by Debbie Abraham. They continue, "I cannot say enough about the company's ethics and commitment to their clients. They are truly one of a kind, a group of individuals that really care about what they do, and it shows in all aspects of their work. I highly recommend the ELG team!"

Another 5-star Google review from Maria Balderas states, "I've used Escamilla Law Group's services on two separate occasions. On each occasion, their team took the time and care to take on my case, kept me updated every step of the way, and made sure that the end result was the best possible. I appreciate their timeliness, professionalism, and hard work. I absolutely trust their team and highly recommend them to anyone who is in need of their services."

Get in touch with the Mesa AZ car accident lawyers online at their website. Interested parties may connect with the firm through their social media platforms as well.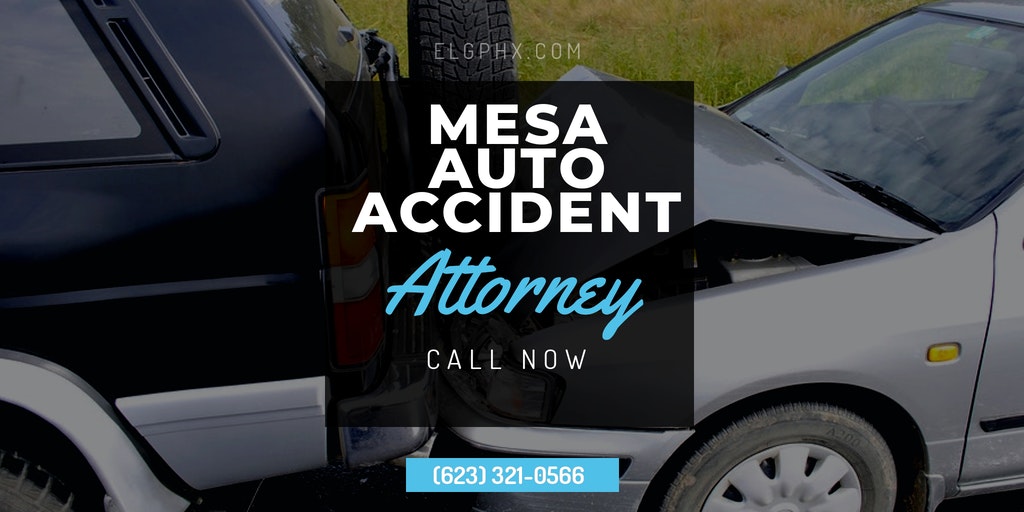 ###
For more information about Escamilla Law Group Mesa, contact the company here:

Escamilla Law Group Mesa
Sergio Escamilla
(623) 321-0566
info@elgphx.com
2058 S Dobson Rd Suite 1, Mesa, AZ 85202
ReleaseID: 60032438